Destination Unknown: Stuart Cantor
Photographer Stuart Cantor transports us to his ultimate European travel destination
Welcome to our brand-new blog series, Destination Unknown. Travel, we love everything about it. Whether it's the idyllic shores of the French Riviera or the remotest corners of Africa, adventure, culture and good times are all part of our brand identity. Throughout this series, we'll be grilling various influencers and creatives about their most memorable holiday destinations from hidden beaches all the way down to their suitcase essentials.

We caught up with Australian photographer and friend of OB, Stuart Cantor, who has created two exclusive photographic prints for our Bulldog swim shorts. Admired for his gorgeous pastel-infused photographs of idyllic spots around Europe, he is often likened to Golden Age photography royalty, Slim Aarons. Buckle up as we jet off to one of Stuart's favourite holiday destinations, which he is also lucky enough to call his office.
First things first, how do you decide where you're going to visit?
I have a long list of places to visit, which are influenced by reading publications like Conde Nast Traveller, Vanity Fair and similar. More and more, my travel is work-related, so the locations tend to be old-world spots with a hero hotel — places that are popular with generations of travellers.
It's the day before your holiday, and you're looking at an empty suitcase. What are your travel essentials?
All of equal importance: swim shorts (of course!) a different pair for each day, a Travel Backgammon set, linen shirts to keep cool, a portable speaker and finally, espadrilles. I then have a separate suitcase for my camera gear.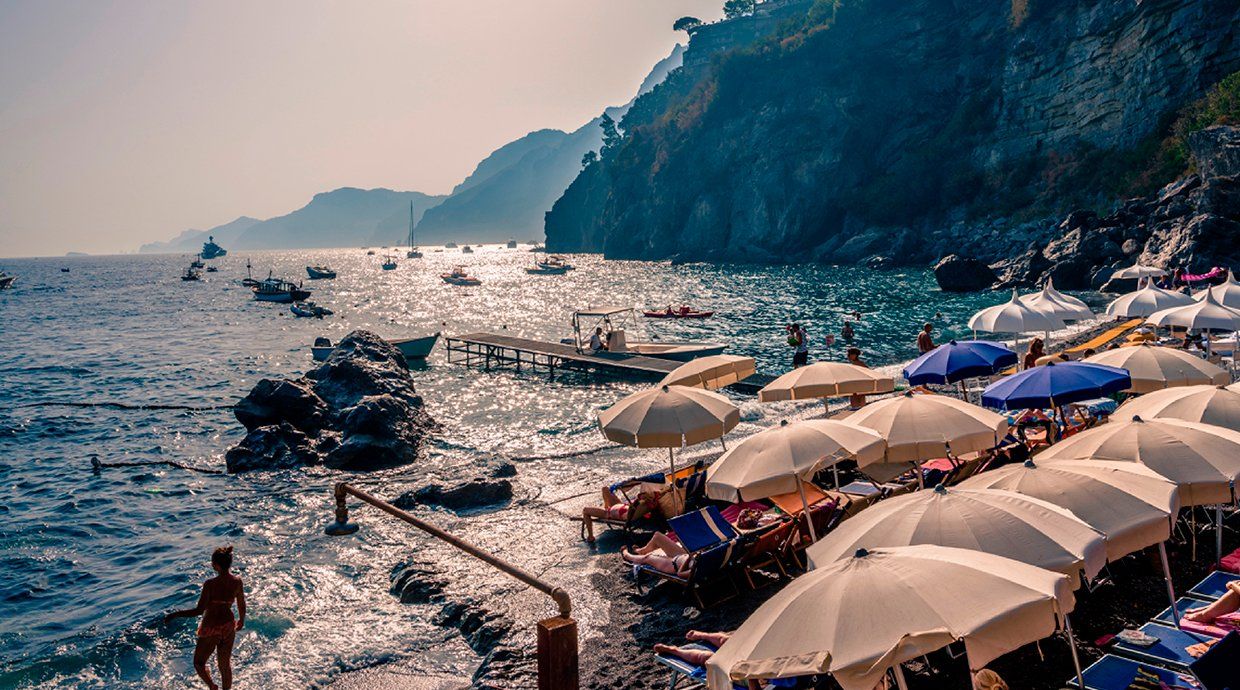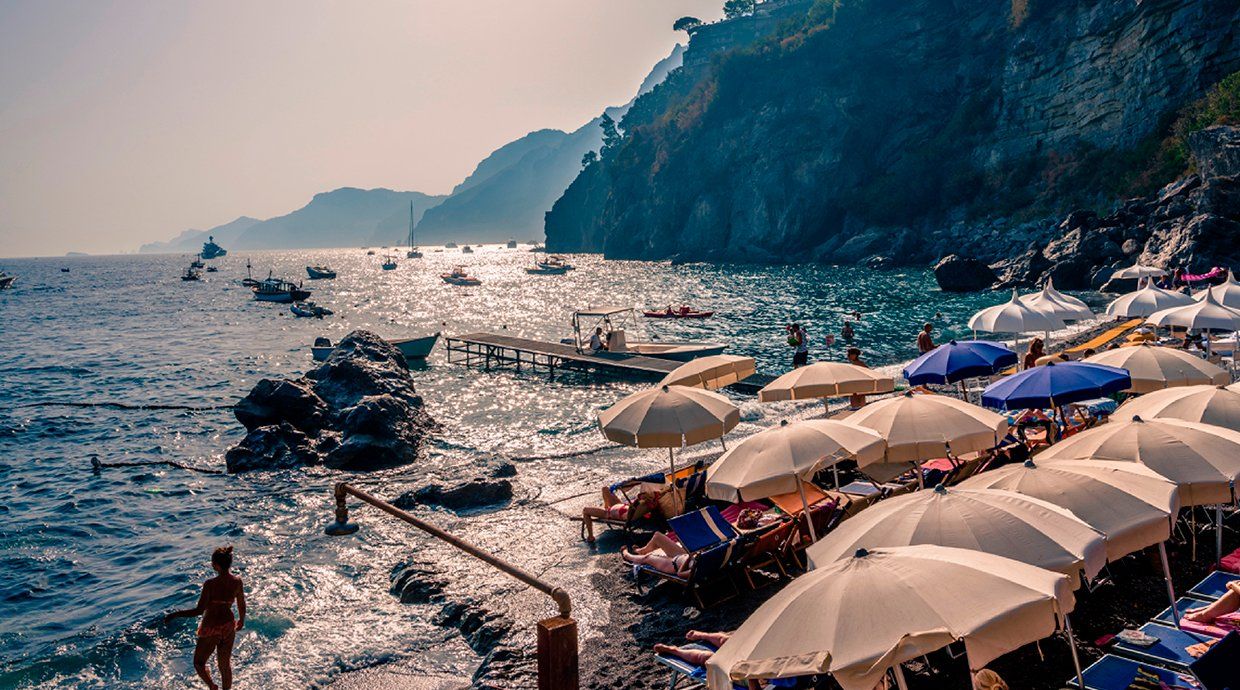 Who's your go-to travel companion, or are you a solo adventurer?
I travel with my fiancé Tess, who has the pleasure of lounging poolside or at the beach club while I climb a mountain for the perfect shot. We'll be bringing our new-born, Harry along for the ride next time, but sadly he's too small to carry the camera gear just yet
How do you keep yourself occupied during the journey?
For me, a game of Backgammon with good company combined with a refreshing Aperol Spritz and some smooth beats, and I'm pretty happy. Some Italian jazz by Nichola Conte always seems appropriate for where we're going.
You've arrived at your destination. Tell us, where are you?
Positano and its surroundings on the Amalfi Coast. As soon as I arrive at these seaside towns, I breathe and take in the sea air, especially if I've just come from a large city. For me, it's the combination of the relaxed Italian hospitality, gorgeous beach clubs, and some of the most photogenic locations on the Mediterranean that makes this place so special.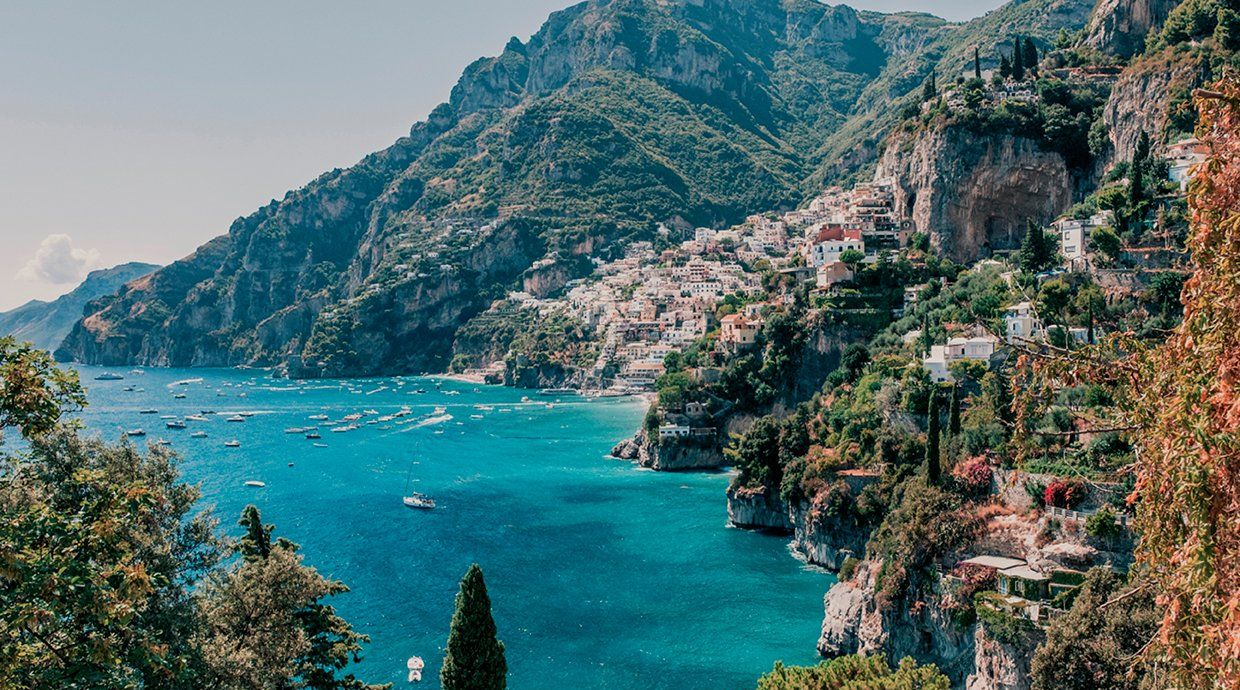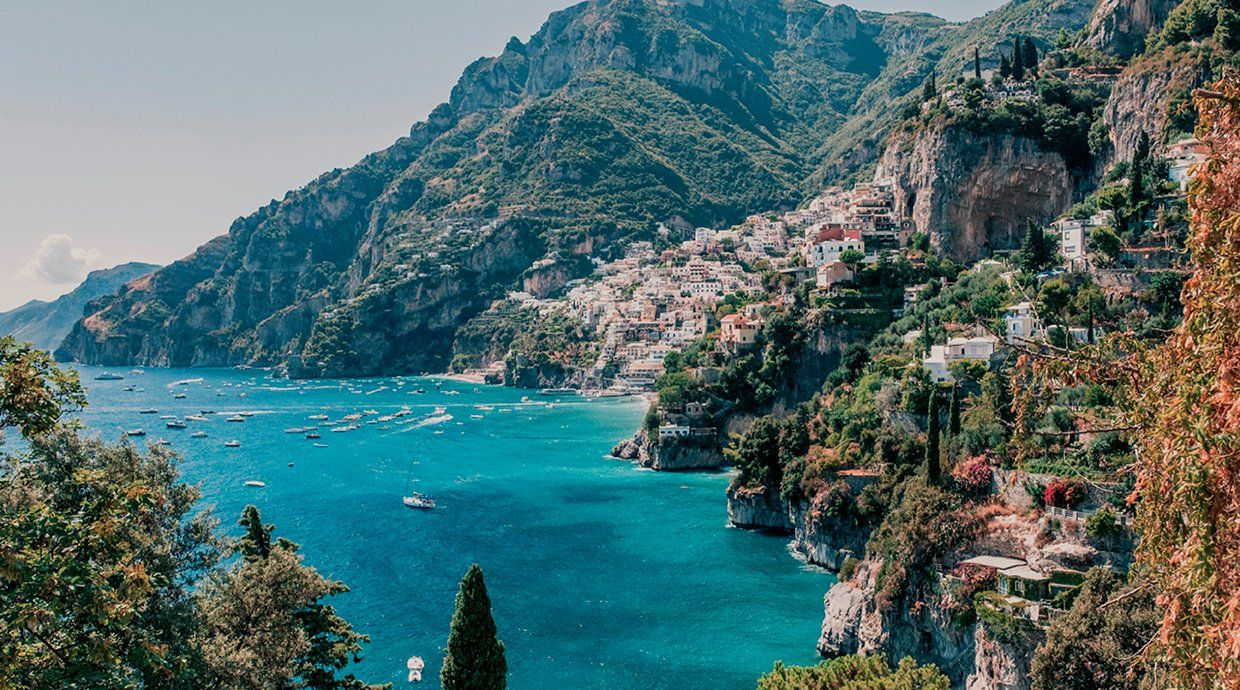 Where are you staying?
Palazzo Murat: it's an 18th-century palazzo which used to be home to the King of Naples (Napoleon's brother). It's at the centre of the town and is an oasis of calm away from the bustling tourist spots. Palazzo Murat feels like a grand home away from home, with rolling Bougainvillea gardens, white umbrellas, and a pool sitting under the mosaic-covered dome of the Church of Santa Maria Assunta. It's also a stone's throw from anything in Positano.
Right, you've unpacked, and you're wearing your favourite OB — where do you head to first?
Straight to the beach for a quick swim, of course, followed by a long lunch at Positano's iconic Da Adolfo restaurant and beach club, which is a quick boat ride to Laurito beach.
It's lunchtime, and you're feeling peckish — what's on the menu?
Calamari fritti or Caprese salad, and if it is a longer lunch, it's hard to say no to some delicious Spaghetti Vongole with a bottle of rosé.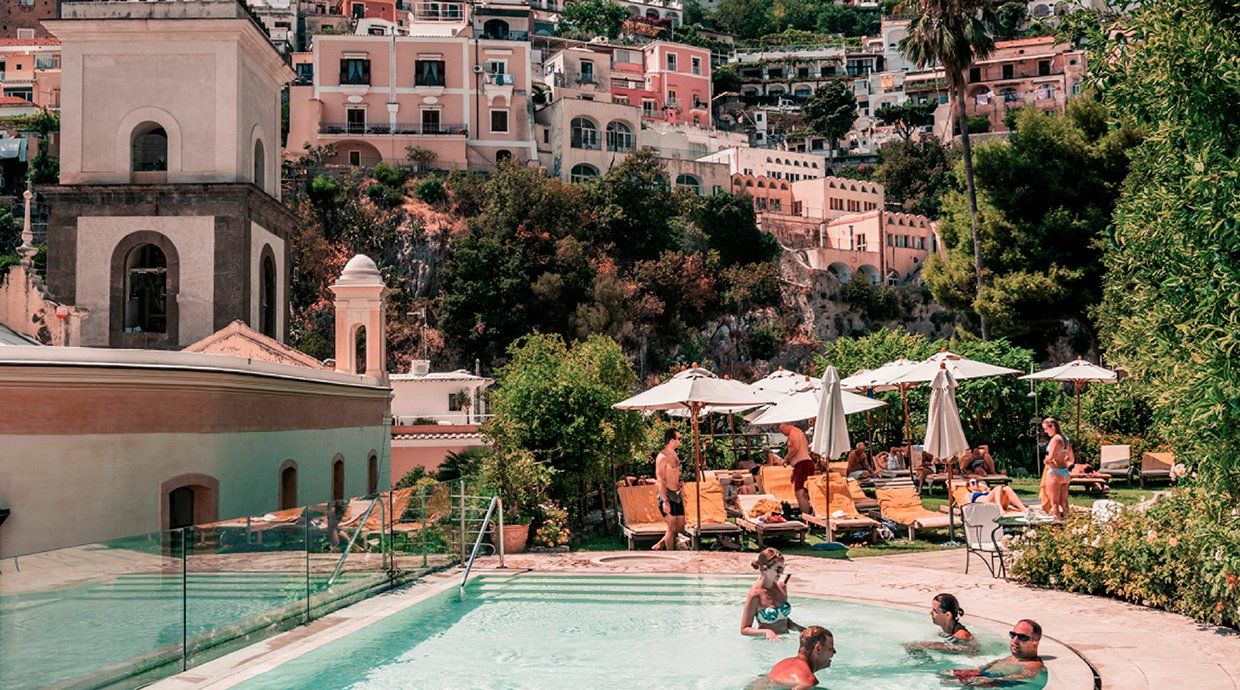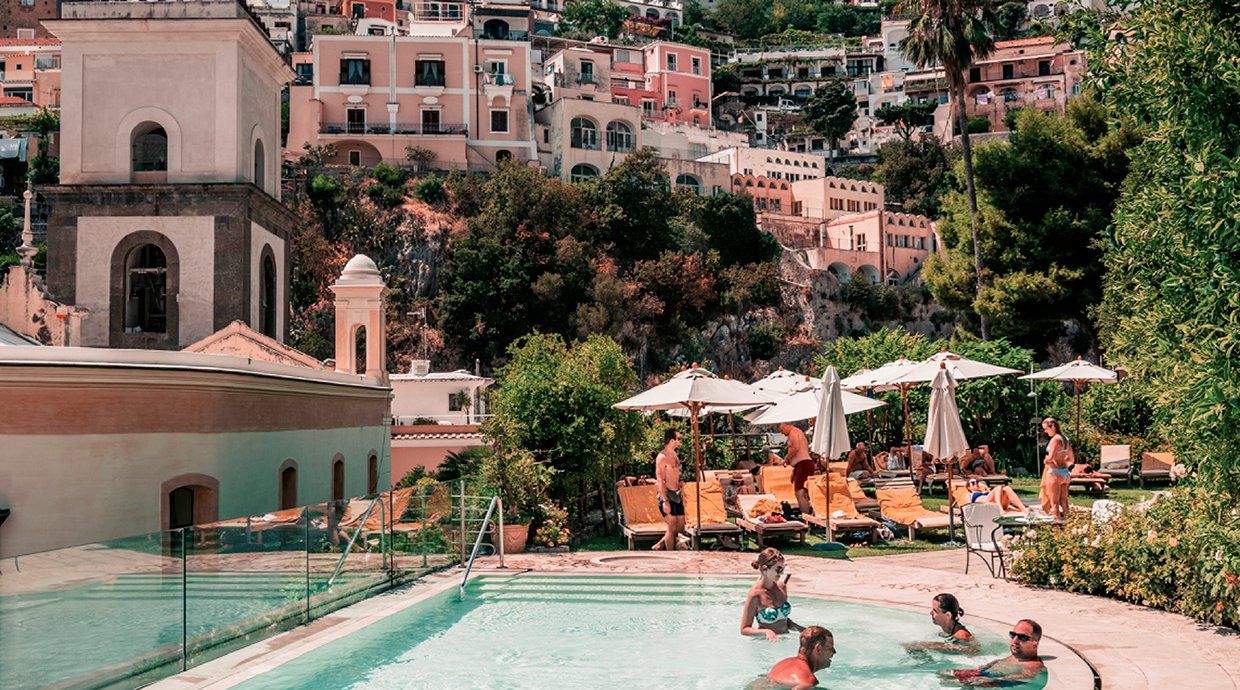 Where do you go to get off the beaten track? Are there any hidden gems you're willing to give away?
Positano can get hectic in the summer peak, so I use it as a base place to stay. I love exploring the surrounding areas during the day and returning later once the day-trippers have left. There's nothing better than jumping on a scooter and cruising down the coast stopping at any beach that catches my eye. There are several different beach clubs to visit (not including the popular ones): Capo di Conca at Conca dei Marina and Il Pirata in Praiano are two of my favourites.

If you visit during the cooler season, get up early to walk the Path of the Gods. You start at Nocelle, which is a small town above Positano, and walk to Praiano and back again. It takes about 90 mins each way, and it's incredible with some extraordinary views.
The sun is beginning to set, what are your plans for the evening?
For me, this is my favourite time of day as people have left the beach clubs and I can put my cameras down!

I start with an Aperitivo sitting outside at the casual, La Brezza Art Cafe, watching everyone come off the boats after a long day in the sun. Then I freshen up and head out for another Aperitivo at Francos — La Sirenuse's open-air cocktail bar with amazing views — followed by dinner at the family-run Da Vicenzo, which is usually filled with locals. And if we are feeling rowdy, the iconic Positano nightclub, Music on the Rocks, is always great fun.
You can now own two of Stuart's travel prints on our Bulldog swim shorts as part of our new collaboration. Sicilian Summer depicts Belmond Villa Sant' Andrea in Taormina, Sicily, and Marbella Club Days transports you to the poolside of the Marbella Club. Stuart also has limited-edition prints available on his website stuartcantorphotography.com. Plus, make sure you follow him on Instagram @stuartcantorphotography for a daily dose of dreamy travel photography.
Reviews
We would love to hear from you.