Introducing the Orlebar Brown x
IWC Capsule
Discover La Dolce Vita with our new collaboration with the Swiss watchmaker


In 1861 an enterprising prince cut a deal. Victor Emmanuel II succeeded in swapping the throne of Sardinia for that of all Italy. It was, as some people said at the time, perhaps Italy who got the better deal.

Sardinia glistens like a pearl. Even in antiquity, they knew it. The ancient Greeks, not known for their flattery of their counterparts across the Ionian Sea, thought Sardinia unique. So unique, in fact, they claimed Zeus — taking a breather after the creation of the Earth — gathered what was leftover, threw it in the sea and stamped it into place. They called it Ichnusa, footprint.

Since the working of that godly heel, the island has been venerated by the Romans, the Phoenicians, the Catalans, Pisans and D.H. Lawrence, who wrote a book about it, Sea and Sardinia, memorably referring to its inhabitants as "pouring themselves one over the other, like so much melted butter over parsnips". But then, that ought not surprise; it is a place which has always shown the sweet life to visitors, a place where the Italian summer seems eternal, and the blood-red tomatoes in a caprese are enough to ward off dark clouds. It is where you go to learn how to enjoy life like an Italian.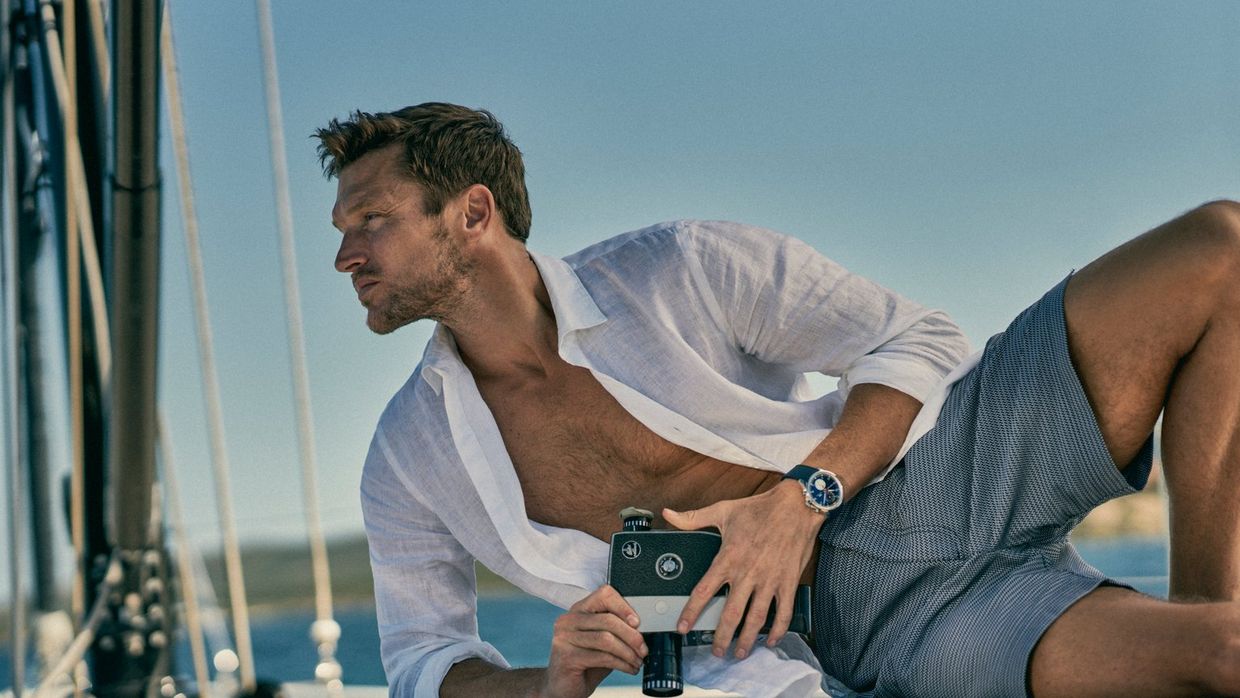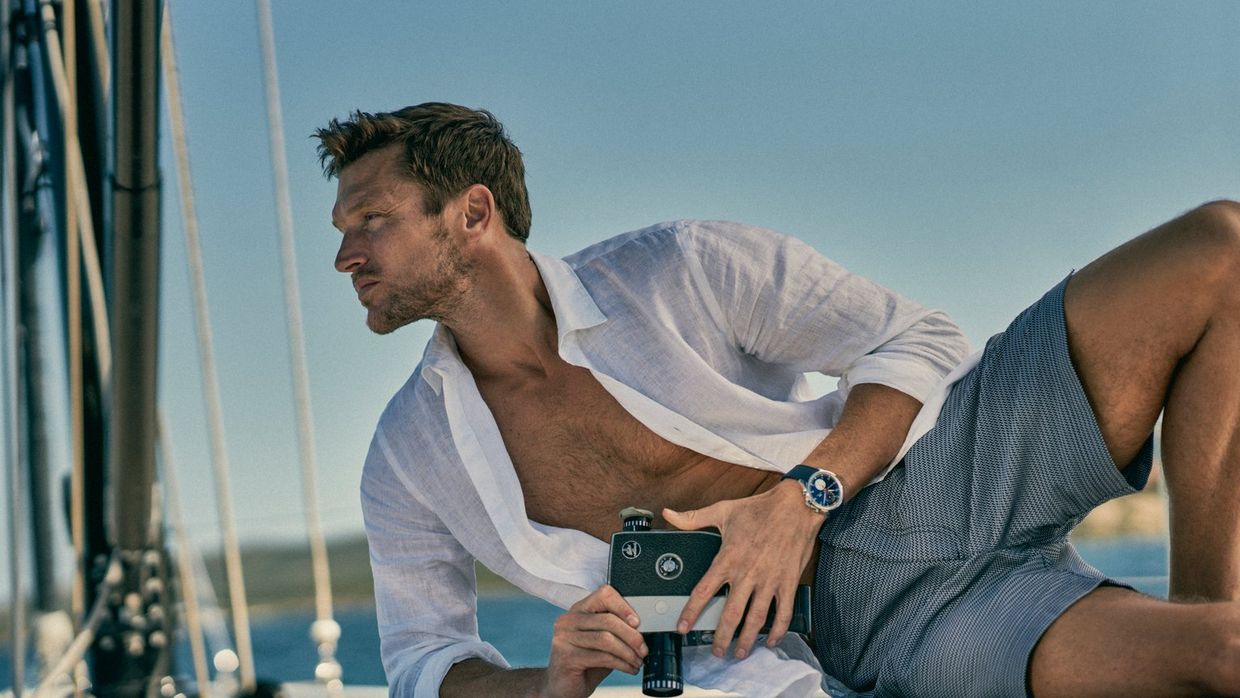 So, when we came to shoot the campaign for the capsule we recently created with IWC Schaffhausen, Sardinia was a natural starting point (and, incidentally, home to our first Italian store at Porto Cervo). We say starting point advisedly, because, as you see, the action took place not just on land but also on a Solaris 55 yacht. It was an appropriate choice because the collection is not just about the good life on land; it is also about the dynamism, adventure and exploration that comes when you are skimming across oceans.

The watch you see on our models is a special creation: the Portugieser Yacht Club Chronograph Edition "Orlebar Brown" has a stainless-steel case, marine blue dial and a co-branded side-fastener buckle (like you find on our shorts). Besides the watch, we have created a nine-piece capsule, which ranges from a white towelling blazer with blue piping to a cotton and silk knitted polo and is the very embodiment of "La Dolce Vita" of Italian summer.
It is 60 years since that film, the masterpiece of Federico Fellini, made the phrase "La Dolce Vita" known to those of us who knew no more Italian than "carbonara". It fixed the vision of Italy in adamantine. Every night hot, every person handsome, and no one ever seeming to have to pay for a drink. The film opens with a statue of Christ being flown over Rome by helicopter, whose pilot pauses, mid-flight, to do some flirting, which rather sets the tone.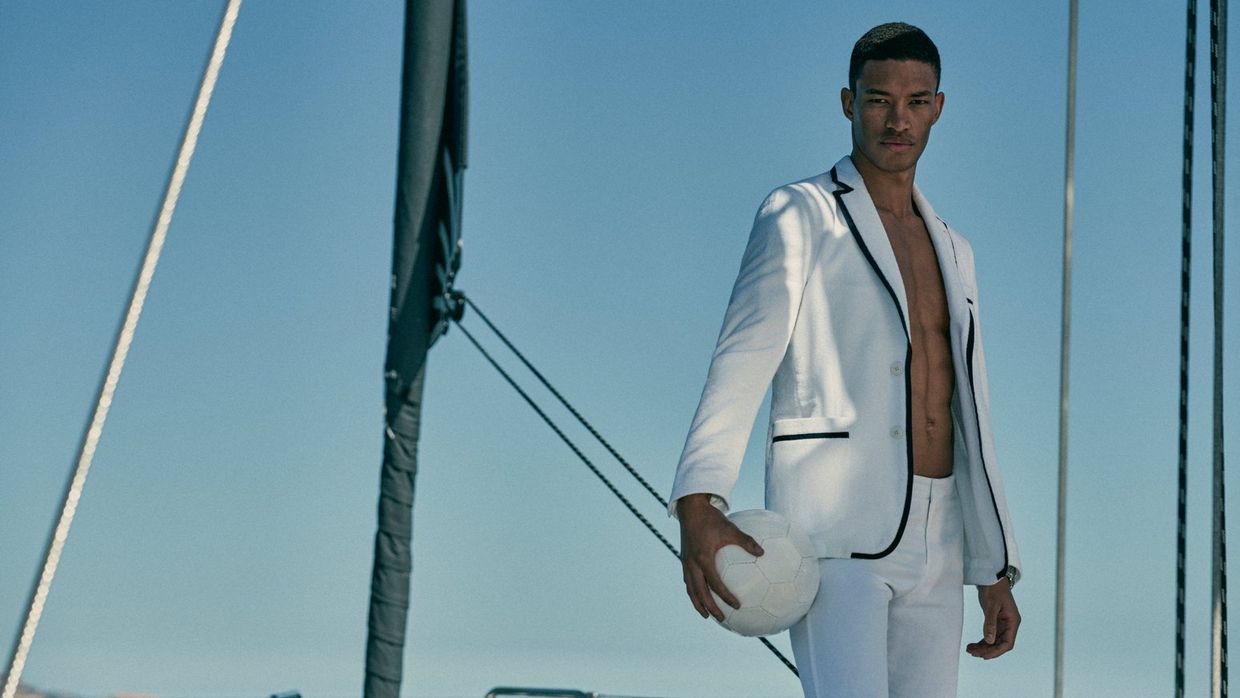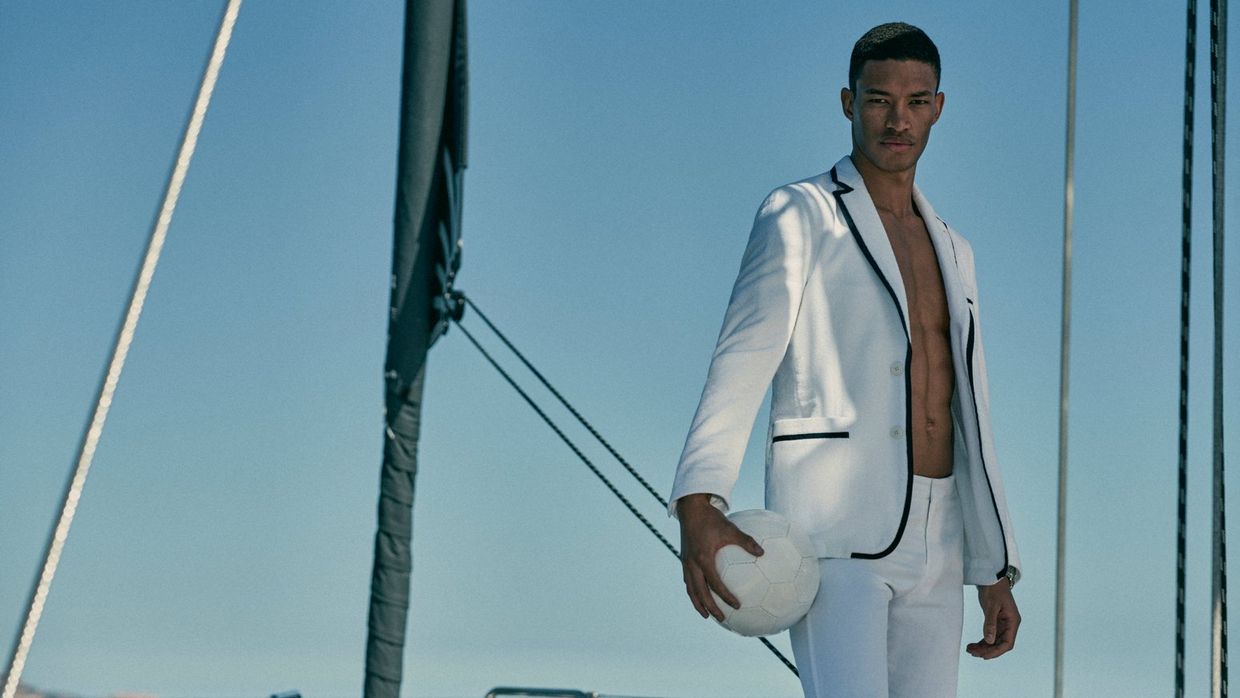 The story follows the travails of Marcello Rubini, a gossip columnist and rake, over seven nights, as he smokes endless cigarettes and somewhat fruitlessly searches for the sweet life of the title. But, in truth, it was the tone and vision, not the story, that struck. It created the great roiling narrative of Italianism: the peacocking, the poise, the ice coolness, even when it was 30 degrees out. You find a mix of all these things in the collection, and on the recently re-opened streets of Sardinia.
To drift through the Bastione di Saint Remy and its neo-classical piazza is to see this up close. Look out across the boat-specked bay, to the salt flats and the sapphire sky, and you could be forgiven for thinking it was a Fellini stage set, so perfect is it. You expect Marcello to pop up for a Fernet-Branca and half a dozen cigarettes at any moment. Indeed, when we last visited, there were quite a few gentlemen that might have been Marcello, cleaving to his father's famous dictum: "boredom makes us old". It is this which makes Italian summers so much better and brighter. The sense of adventure tempered with poise. A sense that anything is possible, that fortune favours the brave, and two bottles are perfectly adequate for lunch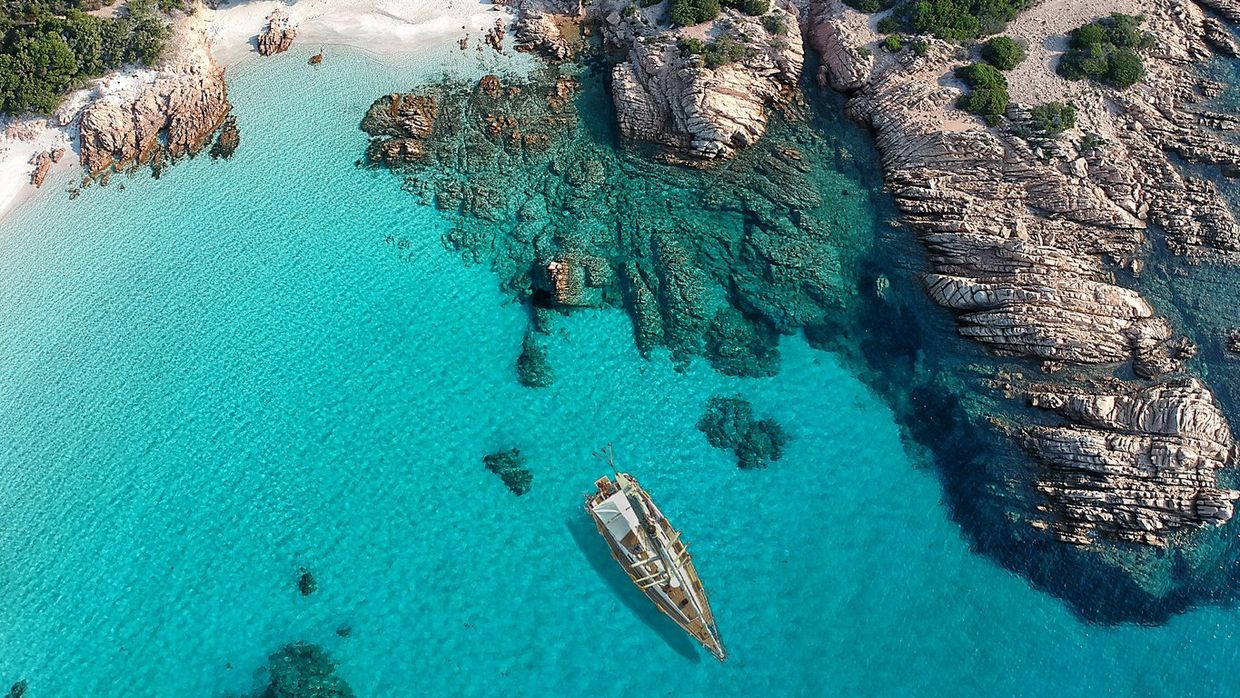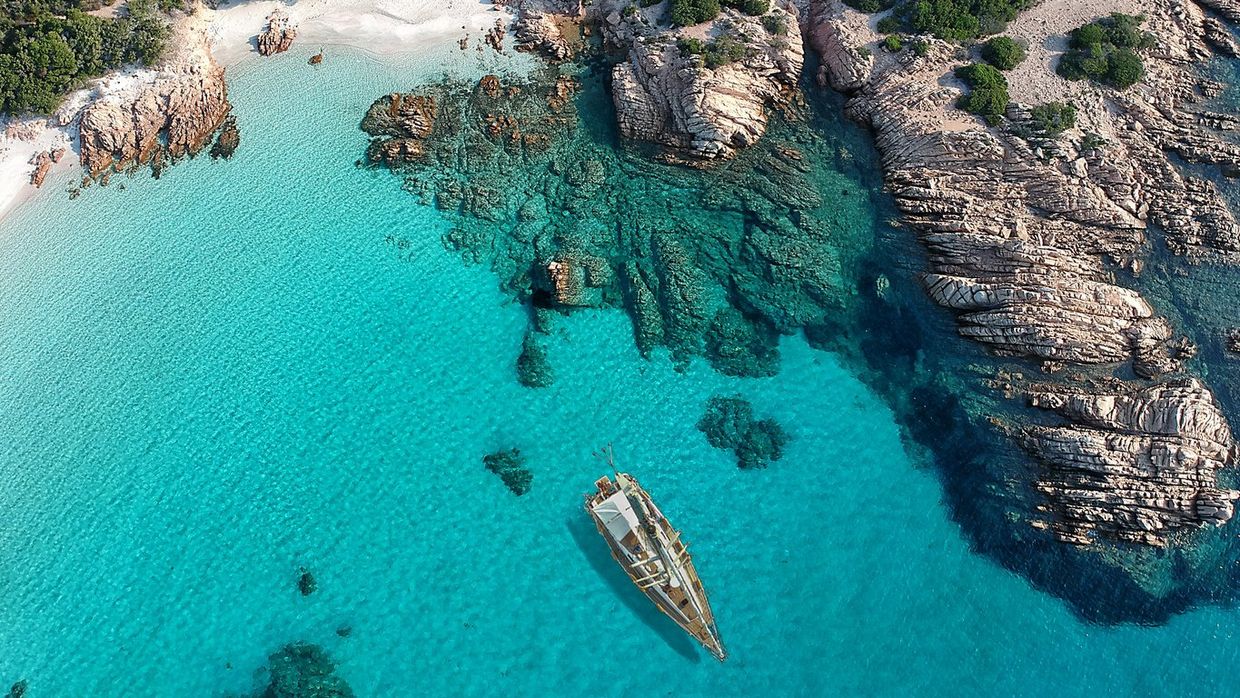 Witness the scene at aperitivo hour in the capital Cagliari, the impeccable clothes of people "waiting expensively for miracles to happen", as W.H. Auden put it; it is slow, drawn-out and that is because it is savoured. An olive here, a sip there, just a little bit of flirting. It is the perfect way to while away an hour before dinner. Nowhere on Earth savours summer as they do in Italy. And now, as we emerge, blinking into the light after the winter of the pandemic, Sardinia never seemed more vital, attractive and bright.

In the film, Maddalena, the bored heiress, says to Marcello: "I'm fed up even with Rome. I'd like an island."

"Buy one," he says.

She should have given Sardinia some thought.


IWC Collection
Reviews
We would love to hear from you.